Have any of you heard in the news recently about the Beast of Stroud?
Well apparently there have been sightings of a mysterious black beast - possibly a big cat
....a puma or black panther escaped from a zoo
.....a pet leopard that has been set free in the countryside because it's owner could no longer cope
.....a mysterious crossbreed that has been roaming these parts for several years...
In January of this year, deer carcasses have been found nearby with injuries similar to those inflicted by a big cat and wallabies have also been killed....
And this is just down the valley from us!!
I have had thoughts of a huge black panther hidden in our apple tree waiting to pounce on me when I pop up the garden path......


The other day, I had left the back door open for a few minutes whilst I fed the birds...
I didn't think anything of it until I went upstairs and had a strange rustling noise....
.then I saw a shape ..
a dark shadow behind the partly drawn bedroom curtain...
jet black fur.....
I stood stock still for a while realising that the Beast of Stroud may have crept in...
perhaps the freezing weather had made this large predator seek refuge in the warm.......
all the advice of what to do if confronted with a big cat was spinning through my head....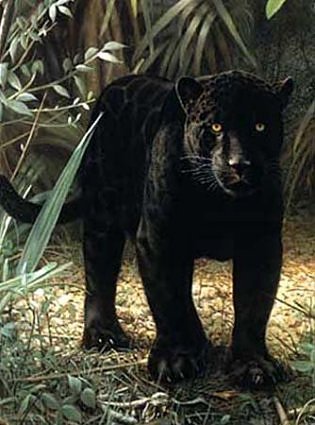 shall I flee?
shall I stand still?
shall I dive under the bed?

...... then the curtain fluttered....
and what appeared?
the Beast of Stroud?
snarling and hungry?
no just our little Max....
Phew...
Very scary......
Maggie xx


Photos courtesy of:
weforanimals.com
blackpantheranimal.com