Firstly...
Just a word about Spencer's Sunday Hats....
Spencer wanted to let you know that he really enjoys his Sunday Hats and sends a big woofy thanks for all the support you have given him. Due to the fact that we have run out of hats for the moment, he has decided that this will now be an occasional rather than a regular feature ;)
In the meantime, Spencer wanted to remind you of his personal favourite.....the naval officer's cap!
Secondly....
Yes I know it's the summer and I should be thinking about making beach bags and summer skirts.....
But some reason I've become a little obsessed by knitted fingerless gloves!
I've made nearly four pairs in the last month!
I know why it is.
I haven't done any knitting for years.
And then I found this lovely easy peasy pattern on Ravelry by Roxanne Richardson....
In fact, I found it via one of the lovely blogs I follow. But I can't remember which! So if it's your blog or you know which blog it was, then please let me know and I'll mention it here :)
You can find Roxanne's lovely easy pattern
here.
It's got me back into knitting as they're quick and easy and not too daunting :)
So my first pair I gave to Chris' Mum, Dorothy, as a birthday gift. They were light green and I hope she liked them!
Since then I have made two further pairs :)
Although I must admit I haven't sewn them up yet ;)
A pink pair.....
A lilac pair.....
And I am currently knitting a lemon pair......
I've especially loved knitting these gloves whilst travelling about in Harvey J as I don't have to think about the pattern too much!
I thought I might add crochet flowers or pretty buttons...
Something like this but smaller!
I think we all know what everyone is going to be getting in their Christmas stocking!
Yesterday evening I decided to search for some more patterns as I felt I could try something a bit more challenging.
Not too challenging mind, just a bit of variety..
And these are a few of the lovely (easy) patterns I found.......
These sweet Seed stitch gloves with a thumb wrap by plzsendchocolate on
instructables.com
....I might try these next ..... you can find the pattern
here.
A bit more adventurous....these dainty diagonal eyelet hand warmers from
Creative Yarn
....so pretty and feminine...I love those little buttons :)
And this sock yarn looks really fun to use in this pattern from
scarlettknits
.........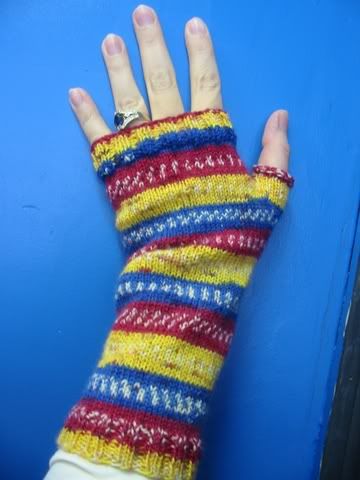 Well I think these should keep me happy for a while! On the knitting front anyway!
Just click on the links above for any of the patterns :)
Now back to patchwork for a minute......this weekend I've been completing a gorgeous snuggly flannel baby quilt...here's a sneak peek....
I'm hoping to show you more when I've completed the quilt :)
Enjoy your Sunday!
Maggie xx